Market Snapshot for Shophouse Buying Activity
There has been a flurry of sales activity for shophouse sales since the COVID-19 pandemic happened in 2020.  Initially, sales of shophouses had dipped in 2019 and only 30 deals had taken place from Jan to Sept 2020, before transactions picked up in the last quarter of 2020 – with almost double the number of transactions (57 deals) Q1 to Q3 2020 vs Q4 2020.
This upward trend for sales continued in 2021 with a total of 166 deals taking place from Jan to August 2021, almost exceeding the pre-pandemic high of 170 deals in 2018. Total transacted value for 2021 was at $1.132b at end-August – which exceeded the value of $1.458b in 2018 (Figure 1).
Our co-founder of Shophouse Club, Simon Monteiro, successfully closed the sale of 2 shophouses on Club Street where a pair of adjoining three-storey conservation commercial shophouses at 44 & 46 Club Street transacted at $25.5 mil in July 2021.
Drivers of rise in shophouse demand
The increase in interest from foreign buyers, family offices and institutional funds to buy shophouses can be attributed to the attractiveness of these heritage properties as legacy investments, and a unique asset class that allows buyers to "own a piece of Singapore's history". Additionally, there is no additional buyer's stamp duty for commercial properties, which means substantial savings, and with foreigners and companies eligible to buy commercial shophouses, these factors all drive up demand for conservation shophouses, which are limited in stocks. 
This rise in demand in conservation shophouses can also be attributed to key initiatives by Singapore's government to introduce a variable capital company (VCC) regime in January 2020, which has gradually seen wealth management groups and family offices moving to Singapore. As many of such firms seek legacy investments, and are a hedge against inflation due to their "evergreen" attributes, many of the recent new entrants to the the shophouse buyers' market are family offices and institutional funds.
It is likely that investors are seeking resilient investment assets will find heritage shophouses an attractive asset to buy, especially as the concept of a shophouse is relatable to individuals/.offices seeking a "home-office" concept. Particularly because historically, shophouses were essentially the equivalent of "home-offices", where business was conducted on the ground level, and it was a home on the upper floors, where sometimes, several families would also share the same premises.
There has also been a rise in the number of co-living operators who find conservation shophouses suitable for such purposes since they have an "interesting story" and "heritage value" that are also attractive for millennials and/or expatriate tenants.
Shophouse owners could engage the services of co-living operators like Figment, The Assembly Place (TAP), and Hmlet. Prior to Covid-19 pandemic, the target market for co-living space was expatriates. However, response from Singaporeans who were affected by construction delays rose steadily in the past year. The main draw of co-living space is the flexibility of short rental period of three months, fully-furnished accommodation that come with WIFI and utilities.
Shophouse Transactions by Districts
The majority of transactions for shophouses were still focused in District 1 and 2, in Raffles Place, Boat Quay and Chinatown and Tanjong Pagar. and additionally, areas around Jalan Besar and Little India in district 8, Geylang in district 14 and Joo Chiat in district 15, saw an increase in sales activity. (Figure 2).
From January to August 2021, there was a spike in sales volume in these districts, surpassing the levels in 2020 and 2019. The only exception was district 14, where there were only 12 transactions in 2021 compared to 26 in 2020 and 15 in 2019. Of the five districts, District 8 (LIttle India, Jalan Besar) saw the highest number of transactions. This is likely a result of the more affordable pricing of shophouses in this location where in 2021, 30 of the 49 transactions were priced below $5 mil each. Similarly, shophouses in District 15 saw  50% of the 22 transactions selling below $5 mil each. 
The majority of shophouse transactions were purchased in company name, while District 15 saw the most number of Singapore investors. 
In terms of price growth, these five districts have shown a steady compound annual growth rate (CAGR) or average yearly growth rate from 2019 to 2021August (Figure 4).  Shophouses in District 1 fetched the highest average price due to its prime location in the city centre. Based on a CAGR of 4.7%, it has risen from $8,031 psf to $9,077 psf over the period. Next in line was the price in District 2 which grew by 6.0% yearly to its current level of $7,163 psf. At the city fringe, District 8 showed an average yearly growth rate of 5.2% while District 14 showed a remarkable yearly growth of 14.3% from its low base of $2,038 psf in 2019 to $2,909 psf currently. As for District 15, prices reflected a modest growth rate of 3.2% from $2,549 psf to $2,775 psf.

Figure 5 lists 10 notable deals in 2021 so far, by transacted price and the price per square foot rate. With the exception of the sale of 22 and 23 Mosque Street, the other nine deals were closed at above $10,000 psf. This $ psf rate is calculated based on land area. As every shophouse is unique because the layout includes spaces like air well, open courtyard or attic, buyers usually take into account the total built-up area and are willing to pay a premium for it. We also observed that sellers who bought their properties within the last five years have made a decent profit when they sold their properties this year.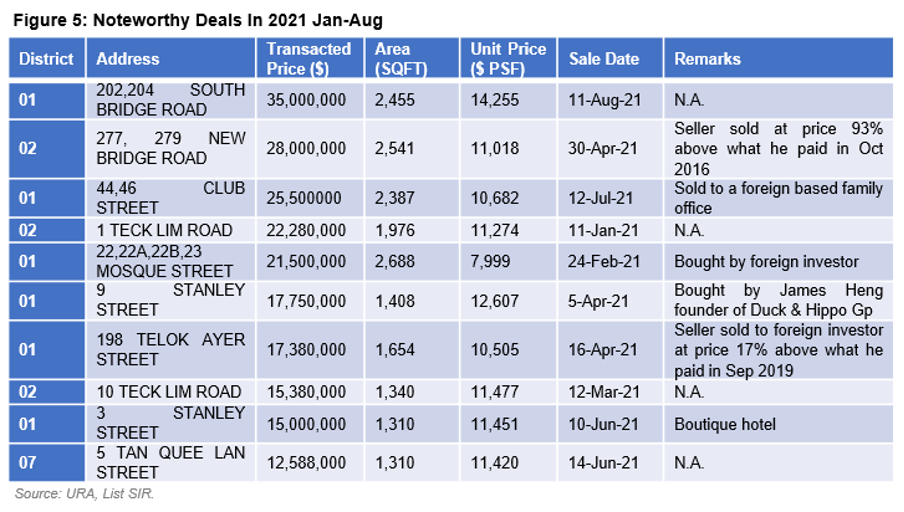 Shophouses are an attractive segment of the property market due to their limited supply, potential for price appreciation and strength to preserve capital value.
Riding on the current strong momentum, the total sales volume of shophouses looks on track to exceed 200 deals by the end of 2021, underpinned by the growing number of boutique companies, family offices and co-living space, strong liquidity and low interest rate environment. Aided by the strong demand, the average price of shophouses are expected to rise by some 10% from 2020 levels to above $4,000 psf.